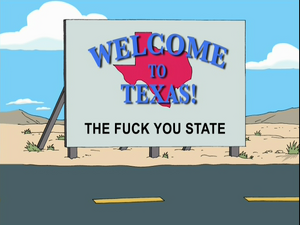 Texas is the second-largest U.S. state by both area and population, and the largest state in the contiguous United States. The name, meaning "friends" or "allies" in Caddo, was applied by the Spanish to the Caddo themselves and to the region of their settlement in East Texas. Located in the South Central United States, Texas is bordered by Mexico to the south, New Mexico to the west, Oklahoma to the north, Arkansas to the northeast, and Louisiana to the east. Texas has an area of 268,820 square miles (696,200 km2), and a growing population of 24.7 million residents.
In "Road to Rhode Island", it was revealed Brian Griffin was born here to Biscuit. Biscuit's owners, named Luke and Betty still live in Austin even seven years later.
The Griffins take refuge here in "Boys Do Cry" when Stewie is accused of being Satan. They take up residence in the home of Lois's sister Carol Pewterschmidt. Her next door neighbors are the Lynches. The edition of Channel 5 News that airs in the state is hosted by Duke Dillon. According to the episode, Texas is The Fuck You State. Prairie Chapel Ranch, better known as Crawford Ranch, which is the home of former president George W. Bush, is "visited" by Meg and Chris. Stewie, disguised as a girl named Stephanie, won the Little Miss Texas pageant.
Community content is available under
CC-BY-SA
unless otherwise noted.