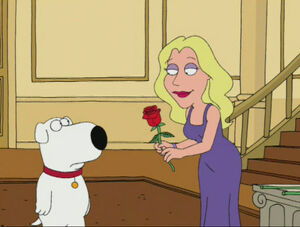 The Bachelorette is a spin-off of the American competitive reality dating game show, The Bachelor. In its January 2003 debut on ABC, the first season featured Trista Rehn, the runner-up date from the first season of The Bachelor, offering the opportunity for Rehn to choose a husband among 25 bachelors. She chose Ryan Sutter, and have become the most successful chosen couple in the two shows' history. Both shows are hosted by Chris Harrison.
The Bachelorette is featured in "Brian the Bachelor", where a woman named Brooke Roberts is the woman looking for a man. After eliminating contestants such as Count Chocula, Trevor, and Frankenberry, her final two choices were Brian and Glenn Quagmire, and she chose Brian. According to he episode, the winner also receives the duty to pay the mansion bills, which Michael Eisner hands them. This choice misled Brian into thinking there was going to be a long term relationship, but it turns out she only did it for the show and publicity.
Peter tries to hurry along a rose ceremony when he has Irritable Bowl Syndrome in "Hefty Shades of Gray".
When an employee has to be fired from the Pawtucket Brewery due to budget cuts in "Yacht Rocky", the selection of those not fired is done similar to that of The Bachelorette/The Bachelor, with the employees being retained being given beer steins.
Community content is available under
CC-BY-SA
unless otherwise noted.