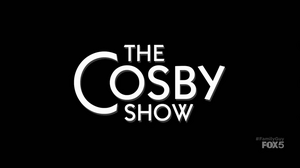 The Cosby Show is an American television situation comedy starring Bill Cosby, first airing on September 20, 1984 and running for eight seasons on the NBC television network, until April 30, 1992. The show focused on the Huxtable family, an upper-middle class African-American family living in Brooklyn, New York.
The show was featured in "Peter, Peter, Caviar Eater" when Malcolm-Jamal Warner's character, Theo Huxtable, reveals that he has impregnated a girl. Cosby's nonsensical talking shows he's not taking the situation seriously.
In "Brian Goes Back to College", there are fans doing Cosby aerobics to The Cosby Show theme with Cosby at the 1980s television convention.
In "Halloween on Spooner Street", Chris Griffin dresses up in Bill Cosby's traditional sweater from the show. Lois makes him put on an Optimus Prime costume instead, believing the depiction to be racist.
Tom Tucker reveals he appeared as a guest star on The Cosby Show in "Tom Tucker: The Man and His Dream".
The family watches The Cosby Show in "Peter's Sister", updated to show the entire cast and guest stars doped up after Bill Cosby's sex scandal became public.
Community content is available under
CC-BY-SA
unless otherwise noted.