The title of this episode is a reference to the Bill Bixby sitcom The Courtship of Eddie's Father.
Stewie's life ambition is alleged to be "taking pictures of Madison County, Iowa" à la The Bridges of Madison County.
Peter, dressed as Indiana Jones, and Stewie, dressed as Short Round, are chased by a turban-wearing guard named Ahmed through a mineshaft, parodying Indiana Jones and the Temple of Doom. Upon luring the guard away, Michael Eisner tries to rip out Peter's heart, parodying Mola Ram from Temple of Doom, but falls down a cliff by the Jungle Cruise and is ripped apart by crocodiles.
Herbert, during a fantasy sequence, sings an almost accurate version of "Somewhere That's Green" from Little Shop of Horrors. The dream sequence where Herbert imagines an idyllic family life with Chris is a copy of the sequence where Audrey dreams of having a family with Seymour.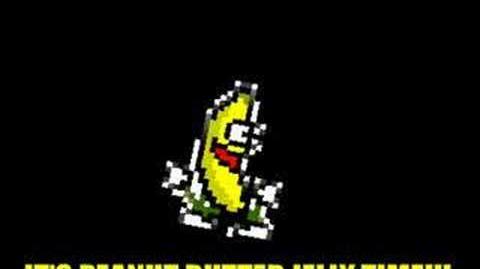 Before Stewie sings "It's a Tiny World", one of the lost kids says, "If you don't sing the song you'll be in a Christmas movie with Tim Allen," a reference to The Santa Clause film series.
Brian recreates the "Peanut Butter Jelly Time" flash cartoon when he tries to cheer up Peter.
During a cutaway gag, Peter is conducting the Tusken Raider Choir. The Tusken Raiders run away, when Obi-Wan Kenobi enters to say that the Sand People frighten easily but they'll be back and in greater numbers. This specific line is a scene from Star Wars.
Community content is available under
CC-BY-SA
unless otherwise noted.