Brian leaves the Griffins to the tune of "Pac Man Fever" by Buckner & Garcia.
At the Quahog Pharmacy, Brian hums a sings a line of Soul Asylum's "Runaway Train".
Stewie mentions the frozen pizza company DiGiorno's use of a domestic violence tweet intended to pitch their pizza.[1]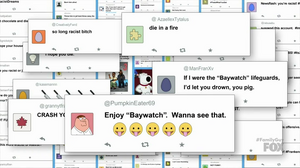 Brian's Twitter account name is "@d0gbackwards", which is an actual account assigned to Brian since October of 2016.[2] Peter uses the same name as his Instagram account, PumpkinEater69. A note on the account by "Peter" claims he had to take @PumpkinEater80 after messing up his @PumpkinEater69 account.
Many of the Twitter accounts that send hate mail to Brian are those of Fuzzy Door Productions staff members, including Matt Fusfeld of American Dad!.
Brian mentions kissing a transexual when yelling at the angry mob.
Brian being booed copies the same gag used on The Cleveland Show episode "Another Bad Thanksgiving" when Cleveland has the same response for Donna's sister Janet.