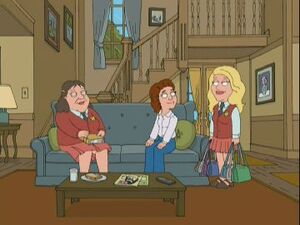 The Facts of Life is an American sitcom that originally ran on the NBC television network from August 24, 1979 to September 10, 1988. A spin-off of the sitcom Diff'rent Strokes, the series' original premise focused on the character, Edna Garrett (Charlotte Rae), as she becomes housemother and later, dietitian as well) to seven girls at the fictional Eastland School, a prestigious all-girls boarding school in Peekskill, New York.
Peter Griffin creates The Facts of Life Transformers for the Happy-Go-Lucky Toy Factory in "A Hero Sits Next Door".
Part of Peter's school board debate speech in "Running Mates" includes some of the lyrics to the show's theme.
In the "Supergriffins" segment of "Family Guy Viewer Mail", Peter demands that a statue be erected in the town square depicting the episode where Blair admits to plagiarizing her poem from a work by Emily Dickinson. At the end of the segment, Peter changes himself into Mrs. Garrett's bosom.
In "Brian Goes Back to College", Brian watches an episode in which a masculine Jo asks Mrs. Garrett if it's okay that her penis touched her vagina.
When trying to name off of the girls on Sex and the City in Stewie Griffin: The Untold Story / "Bango Was His Name Oh", Chris names "Tootie" on The Facts of Life.
"Prick Up Your Ears" has a cutaway featuring Geri Jewell, who suffered from cerebral palsy, indicating she was a depressing part of the show.
Lois is so shocked that Brian is engaged Rita in "Brian's Got a Brand New Bag" that she needs Mrs. Garrett to properly express her disbelief. Brian even criticizes the family for having Charlotte Rae stand by to crack jokes about his love life.
A Tootie-centered peer pressure episode of the show is used as an example of Carter Pewterschmidt's hatred of two-part episodes in "Welcome Back, Carter".
Chris reminds the family that Edna Garrett was also on Diff'rent Strokes in addition to The Facts of Life in "Bigfat". At the end of the episode, Quagmire takes Peter to a strip club where Charlotte Rae performs in the style of Mrs. Garrett.
The theme for The Facts of Life was used as dance music added in post-production in the Fatal Attraction story of "Heart Burn".
Community content is available under
CC-BY-SA
unless otherwise noted.