Wiki Targeted (Entertainment)
Play Sound
The First No L
Lois loses her holiday spirit.

Season: 19 Episode: 09
Total Episode Count: 358
Prod. no.: KACX06
First Aired: December 13, 2020

Featuring: Lois Griffin
Also Appearing: Peter, Meg, Chris, Stewie, Brian, Quagmire, Mort, Stella, Greased-up Deaf Guy, Tom Tucker, Dr. Hartman, Emilio, Matt Lauer, Hoda Kotb, Savannah Guthrie, Charlie Rose, Gayle King, Norah O'Donnell, Tony Bennett, Willie Nelson, Tig Notaro, Tim Allen, Dan Aykroyd, Cheech Marin, Lyndon Smith, Jamie Lee Curtis
Director: Joseph Lee

Assistant Director
:
Wincat Alcala
Writers
:
Damien Fahey
Storyboarders
:
Jonathan Gebhart
,
Michael Narren
,
Stephen Wong
Plot
: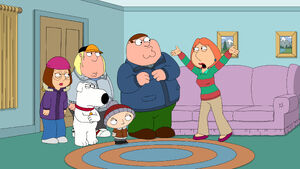 When Lois insists on the family helping her with Christmas, they blow it and she decides to leave them on their own for the holidays to see how they would do. At first they despair, but things actually go their way and they have a good time. However, Lois, who told her family that she was going to take care of cousins in Mexico, holds up at a motel with a pair of binoculars where she can spy on them and wait for them to call begging her for help. Seeing that they've become a successful and loving family without her, she vows revenge.
In a stunt worthy of the Grinch, she sneaks into the house to take all of their Christmas goods, but not before she ends up doing the household chores and buying groceries. The family is disappointed at first, but when she pretends to return from Mexico, she finds that they're happy because her gift from the heart was still safe and she's deeply moved by the gesture. Again reminiscent of the Grinch, her heart grows three sizes, but this lands her in the hospital as a Muslim neighbor is blamed for the theft and deported.
Recalling an earlier gag, in which Quagmire pretends to have family for a customer service agent in an attempt to convince her he isn't alone on Christmas. Lois pretends to have cousins that are destroying various family belongings after they press her for details about her family that she went to visit.