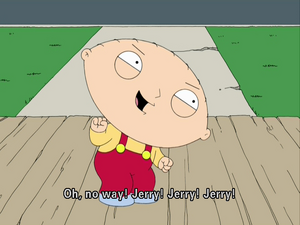 The Jerry Springer Show is a syndicated television tabloid talk show hosted by Jerry Springer, a former politician, broadcast in the United States and other countries. It is videotaped at the Rich Forum Theatre in Stamford, Connecticut and is distributed by NBC Universal, although it is not currently broadcast on any NBC-owned stations.
The show is ostensibly a talk show where troubled or dysfunctional families come to discuss their problems before a studio audience so that the audience or host can offer suggestions on what can be done to resolve their situations. In actuality, the show has come to epitomize the so-called "trash TV talk show", as each episode of the show focuses on topics such as adultery, bestiality, divorce, homophobia, homosexuality, incest, infidelity, pedophilia, pornography, prostitution, racism, strange fetishes, dwarfism, or transvestism, which frequently result in fighting between guests. It has received widespread criticism and caused many controversies for a variety of reasons including its elements of prurience, foul language and the exploitation of the vulnerable.
In Quahog, Rhode Island, it airs in syndication on Quahog 5. It is highly-rated, according to Diane Simmons in "The King Is Dead".
In "The Former Life of Brian", when finding out Brian has a human son named Dylan Flannigan, Stewie starts pumping his fist in the air chanting "JERRY! JERRY! JERRY!" in emulation of the show.
Community content is available under
CC-BY-SA
unless otherwise noted.