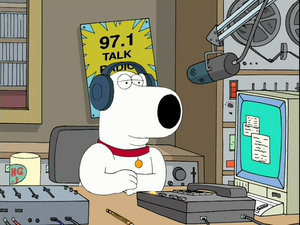 The Lunch Hour is the name of a radio program hosted by Brian Griffin in "Mother Tucker". He was offered a show on WQHG-FM 97.1 by Weenie and the Butt while looking for Stewie because they believed he had a voice suitable for radio. It was meant to be a serious talk show about topics such as politics and the economy, until Stewie prank called, with hilarious antics. Those antics saved the show from cancellation, demanding Stewie become part of it. The show was turned into the more comical Dingo and the Baby. The new show's first broadcast was supposed to be a broadcast of TLH when Stewie interrupted Brian by coining the new show title and playing sound effects. It was later revealed Brian had scheduled an interview with Gore Vidal before the show's overhaul.
Community content is available under
CC-BY-SA
unless otherwise noted.