Wiki Targeted (Entertainment)
Play Sound
The Movement
Peter kneels for the national anthem.

Season: 18 Episode: 14
Total Episode Count: 343
Prod. no.: JACX15
First Aired: March 8, 2020

Guest Starring: Dan Castellaneta, Kevin Nealon
Featuring: Peter Griffin
Also Appearing: Lois, Meg, Chris, Brian, Stewie, Joe, Cleveland, Quagmire, Bonnie Swanson, Carter Pewterschmidt, Tom Tucker, Tom Tucker, Sr., Jerome, Homer Simpson, Stan Smith, Roger, Francine Smith, Johnny 'Feedback' Robinson, Luke, John Wilkes 'Photo Booth' Griffin, Joe & Troy, Quahog Whooping Scalpers, Frank 'Cardiac Arrest' Ross, Bill 'Doesn't Know CPR' McGillicuddy, Kenneth & Chuck, Abraham Lincoln, Soup Nazi, George and Louise Jefferson, Jason Alexander, Kevin Nealon
Musical Numbers: Good Morning, USA

Director: Joe Vaux

Assistant Director
:
Mark Covell
Writers
:
Maggie Mull
Storyboarders
:
Helen Kim
,
Steven K.L. Olson
,
Stephen Wong
Plot
: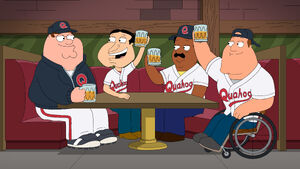 When Carter's new minor league baseball team needs a coach, he puts Peter in charge. But when he tries to fight back a bout of diarrhea after indulging in a shrimp promotion prior to the national anthem, he is forced to his knees which is interpreted as a protest against police brutality. However, he is also hailed as a hero for speaking up so he tries to enhance his activist standing. Lois ties to discourage his stunts but is thwarted when Peter is given a paid position from Nike for speaking out.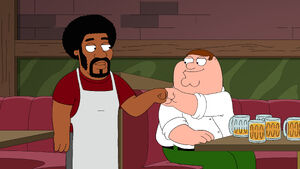 While signing autographs at Quahog Sporting Goods for Nike, Carter confronts him over dropping ticket sales due to his commercial and knocks him out with a baseball bat, causing him to have a 'Marvel's Black Panther-type' experience hosted by Cleveland in Waquahog. There, he is also treated as a hero for speaking out, but they also touch a nerve about him doing it for the right reasons. Before another game, he is warned by Carter not to kneel, but decides to speak up, admitting that he really wasn't an activist, but also proposes making "The Hamster Dance" the new national anthem.
Back home, they decide to check in on Meg home Peter traded to American Dad!. When she tries to take Stan's place in the opening credits, she is told by both Stan and Roger to shut up.