Wiki Targeted (Entertainment)
Play Sound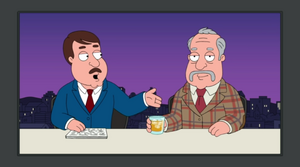 Tom Tucker's father, Tom Tucker, Sr. joins him on the air, having last been a broadcaster in 1964. He drinks alcohol on the air and thinks that women who work outside of the home are prostitutes.
The piano riff during the John Wilkes 'Photo Booth' Griffin gag is "Camptown Races".
Peter wants to change the National Anthem to "The Hamster Dance Song" by Hampton the Hamster.
When Carter knocks Peter out, cartoon tweeting birds circle his head. When they get caught and crushed in an escalator, he notes that Disney isn't going to like it.
Cleveland claims the introduction to Waquahog would have been the Season 5 premier to The Cleveland Show.
Peter tries to find out about Meegos, a Bangladesh employment project.[2]
Peter considered sex between Salma Hayek and Ed Norton to be a solemn occasion.
In a call back to "12 and a Half Angry Men" in which he appeared twice in the jury box, Peter appears three times during his national anthem as he tries to make his way to the bathroom again.
Peter claims to smoke for the first time when trying to fight off diarrhea, despite a long track record of smoking including "Secondhand Spoke".
Community content is available under
CC-BY-SA
unless otherwise noted.