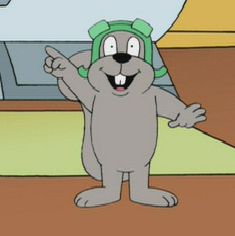 The Rocky and Bullwinkle Show is the collective name for two American television animated cartoon series: Rocky and His Friends (1959–1961) and The Bullwinkle Show (1961–1964). Rocky & Bullwinkle enjoyed popularity during the 1960s. It was targeted towards children and adults.
In "The Thin White Line", while time traveling when he was supposed to be tanning, Chris Griffin finds himself in "the Bible days" and encounters an angry lion. Peter Griffin pulls the lion up from the booth and remarks that it is the wrong hat. Rocky The Flying Squirrel shows up and says, "And now, here's something we hope you'll really like."
In "The Kiss Seen Around the World", Peter and Brian Griffin travel back in time to 1492 to meet Christopher Columbus in a scene that parodies the segment "Peabody's Improbable History" on the popular cartoon show The Rocky and Bullwinkle Show.
Stewie mimics Rocky in "Stew-Roids", presenting something the audience would really like.
In "Thanksgiving", Tom Tucker has to deal with the car alarm blaring from the Quahog 5 News van during the Quahog Thanksgiving Day Parade when he about to present the float featuring Rocky and Bullwinkle,
Community content is available under
CC-BY-SA
unless otherwise noted.