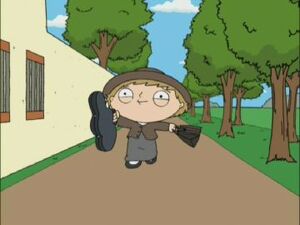 The Sound of Music is a 1965 musical film directed by Robert Wise and starring Julie Andrews and Christopher Plummer. The film is based on the Broadway musical The Sound of Music, with songs written by Richard Rodgers and Oscar Hammerstein II, and with the musical book written by the writing team of Howard Lindsay and Russel Crouse. Ernest Lehman wrote the screenplay.
In "Death Has a Shadow", the Von Trapp family defeats Peter Griffin, among others, in a musical competition.
In "Brian: Portrait of a Dog", after Peter tells Brian to "stop being a bad dog", Brian storms out of the house. Peter reveals he is holding an engine part, in a parody of when the nuns reveal they have sabotaged the Nazi soldier's cars. The scene was also parodied during a home viewing of the movie in "You May Now Kiss the...Uh...Guy Who Receives" except a nun holds Nazi Guard Rolfe's head, to the other nuns' horror.
In "The Kiss Seen Around the World", Stewie Griffin asks the bully how old he is and the bully replies, "seven", Stewie says, "My, you're practically a lady." This is a reference to when Maria is introduced to the children.
Chris Griffin, Meg and Stewie sing "So Long, Farewell" to Mr. Weed to impress him in "Mr. Saturday Knight". It is the last time they see him alive.
"The Four Peters" in "Model Misbehavior" position their hands as the Von Trapp family did.
In the opening of "PTV", Stewie runs Maria over during her performance of "The Sound of Music".
Mayor Adam West is singing a parody of the song "Edelweiss" in "Brian Sings and Swings".
Stewie is seen singing "I Have Confidence" as Maria von Trapp in the "Stewie B. Goode" segment of Stewie Griffin: The Untold Story.
Lois fumbles through "Sixteen Going on Seventeen" at Meg's 16th birthday party in "Peter's Two Dads". Peter is also listening to the song just before getting shipped to 'straight camp' in "Family Gay".
Peter says to Brian "You know, sometimes I don't believe I know you" in "Love, Blactually". This line is said by Captain von Trapp to Max in the film.
Peter bullies Joe to sing a portion of "The Lonely Goatherd" in "The Tan Aquatic with Steve Zissou".
Peter and Brian watch the film in live action at the Quahog Cinema during a double feature in "Friends of Peter G"
The film is parodied in "Vestigial Peter". Chip turns the drapes in clothes for Meg, Chris, Stewie, and Brian and they arrive in the backyard via rowboat and Peter acts as Captain Von Trapp.
When Stryker Foxx suggests a dangerous flying stunt in a wingsuit in "Foxx in the Men House", Peter suggests that he'll step aside and spin around while singing The Sound of Music.
Community content is available under
CC-BY-SA
unless otherwise noted.