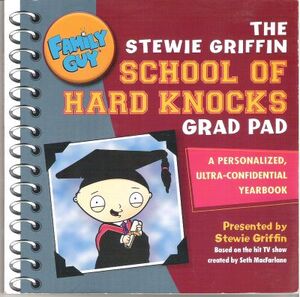 Paperback: 112 pages
Publisher: It Books (April 3, 2007)
Language: English
ISBN-10: 0061148695
ISBN-13: 978-0061148699
Dimensions: 7 x 6.8 x 0.3 inches
Stewie Griffin (Author)
Description:
Part scrapbook, part memory album, part down-and-dirty slam book, The Stewie Griffin School of Hard Knocks Grad Pad is a place to record the most memorable events of one's school career.
Tucked in between photos of the Griffin clan's own most embarrassing, degrading, and undignified moments (as captured and supplied by Stewie Griffin, along with Stewie's classic witticisms and trademark zingers) is room for you and your peeps to add your own photos, musings, memories, and pithy one-liners. Even the most tight-lipped among you will find this maniacal one-year-old baby genius's probing, downright voyeuristic questions and prompts irresistible.
So go on—engage in childish prattle, infantile impulses, and adolescent outbursts while you still can. Today you're young, but tomorrow you're just another college grad slinging lattes in the real world!
Community content is available under
CC-BY-SA
unless otherwise noted.