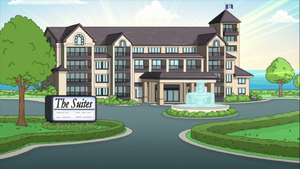 The Suites, also known as The Suites. At the Point. At the Quahog. At the Harbor. At the Promenade. is home to the fanciest breakfast buffet in Quahog.
After Peter and Chris become hooked on breakfast buffets following a trip to New Orleans in "The Marrying Kind", they began sneaking into breakfast buffets at hotels around Quahog. When Peter sets his sights on The Suites, Chris is skeptical but goes along with it. During their meal, he passes Peter a note indicating that he's wearing a wire because he was caught previously at another hotel and they're trying to catch Peter as well. Peter manages to escape dressed as a bellboy, but Chris is sent to prison.
Community content is available under
CC-BY-SA
unless otherwise noted.