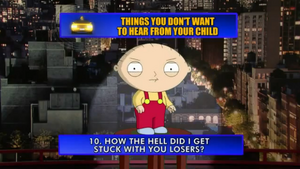 The Top Ten Things You Don't Want to Hear From Your Child was an edition of the Late Show Top Ten List on Late Show with David Letterman that aired Monday, December 21st, 2009 on CBS. Stewie Griffin presented the list. The segment has been a regular segment on David Letterman's late night programs, originating on Late Night on NBC. This was done as a promotional stunt for the DVD and Blu-ray disc release of Something, Something, Something, Dark Side.
The List
10. How the hell did I get stuck with you losers?
9. Good luck guessing where I hid your heart medication.
8. Ever notice how much I resemble mom's personal trainer?
7. I just took a leak in your car. Happy Father's Day.
6. I'm dating one of the Kardashians.
5. My therapist and I had a really great conversation about you.
4. I'll be home late. I have an Al-qaeda sleeper cell meeting.
3. Given my genetic makeup, it's amazing I'm not fatter and more stupid.
2. I found the ghastly video tape of my conception in your closet.
And the #1 Thing You Don't Want to Hear From Your Child:
1. Why can't you get a show at 10pm like Leno?
Community content is available under
CC-BY-SA
unless otherwise noted.