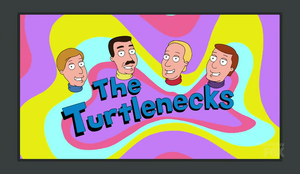 The Turtlenecks are a children's musical group.
When Lois disapproves of a film that Brian is watching with Stewie in "The Boys in the Band", she changes the television channel so he may watch The Turtlenecks instead. However, Stewie dislikes their music, noting that they don't really sing songs about things that babies really care about. He forms a musical duo with Brian to fill this gap.
Later, after Olivia Fuller, taking advantage of their popularity, manages to convince Brian to drop Stewie from the act, She and Brian perform at the Quahog Arena as the opening act for The Turtlenecks.
Nolan North provides the collective voice of the group.
Community content is available under
CC-BY-SA
unless otherwise noted.