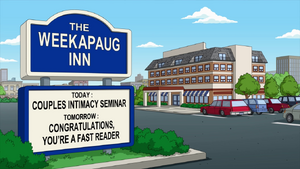 The Weekapaug Inn is where Lois forces Peter to attend a couples intimacy seminar hosted by Dr. Johann, unaware that Peter and Stewie have swapped bodies in "Switch the Flip".
A horrified Stewie finds out that Lois plans a weekend full of sex and frantically tries to direct Brian and Chris in repairing his transfer device to allow everyone to return to their correct bodies, after another mishap causes most of Quahog to swap. They succeed in time, but it is revealed that Brian, now in Peter's body, had sex with Lois which lasted only three minutes, leaving her unsatisfied.
Community content is available under
CC-BY-SA
unless otherwise noted.