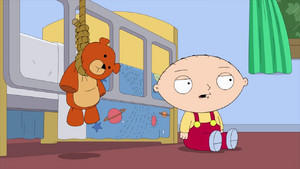 Chris does not appear in this episode. Meg has no lines.
Apparently tired of Stewie's monologue, Rupert appears to have hanged himself.
Tom Cochrane's "Life is a Highway" is featured throughout the episode.
"Zombie Hyperdrive" by Red Eyes plays during Stewie's gymkata fight for the heiress.
Stewie confuses the superhero known as 'The Flash' for the Meryl Streep film Ricki and the Flash. Brian and Stewie deny having seen the film at first, but both admit to having seen it after all.
The show breaks the Fourth wall by having Brian's teleprompter cut out and the production team instructs him to improvise as well as a title card that appears when Eli Manning is claimed by be a psychopath, but that it really isn't true but that the episode was written by New England Patriots fans. When the guys agree to take over the Drunken Clam for Jerome, Quagmire acknowledges the "B story" subplot.
Gillette Stadium, home of the Patriots, can be seen on the television at the Drunken Clam when Peter brings in the bull.
Peter cinches the bulls testicles with his belt to keep him calm in the bar with disastrous results. Animal activists contend that this is what leads to bulls bucking during bull riding, while supporters contend that this is a misconception and the flank straps do not come in contact with the bulls genitals.[1]
Community content is available under
CC-BY-SA
unless otherwise noted.