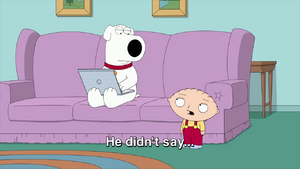 The title parodies the film The Wolf of Wall Street.
Stewie's phone conversation with "Toshi" which consists of noting that he doesn't say three times and then when Brian inquires about it, gets a response of "he didn't say" is a long-running gag in television and films.[1]
Stewie's 'gymkata' refers to the 1985 martial arts film starring Olympic gymnast Kurt Thomas who combines his gymnastic ability with martial arts to enter a deadly competition in a fictional country.
Michael Vick and Eli Manning are both greeted in the style of Norm from Cheers.
Brian quotes Darth Vader's line in Star Wars: A New Hope "When I left you, I was but the learner; now I am the master."
Elmo's voice actor Kevin Clash was accused of sexual improprieties but no charges were brought. Still as a result, Kevin quit Sesame Street and moved to Los Angeles to continue work with the Jim Henson company.[2]