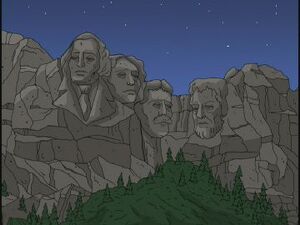 Theodore "Teddy" Roosevelt (October 27, 1858 – January 6, 1919) was the 26th President of the United States from 1901-1909. He is noted for his energetic personality, range of interests and achievements, leadership of the Progressive Movement, and his "cowboy" image and robust masculinity. He was a leader of the Republican Party and founder of the short-lived Progressive ("Bull Moose") Party of 1912. Before becoming President he held offices at the municipal, state, and federal level of government. Roosevelt's achievements as a naturalist, explorer, hunter, author, and soldier are as much a part of his fame as any office he held as a politician.
Roosevelt's face is featured on Mount Rushmore, as it is in reality, appearing in "North by North Quahog" and "Baking Bad".
Brian pursues a scam in "The New Adventures of Old Tom", comparing it to Theodore Roosevelt being on Mount Rushmore without having participated in a major event compared to the others.
Quagmire mentions Robin Williams' portrayal of Teddy Roosevelt in Night at the Museum in "Bri-Da".
Community content is available under
CC-BY-SA
unless otherwise noted.