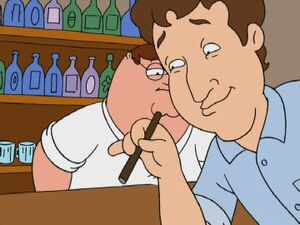 Tim Allen (born Timothy Allen Dick; June 13, 1953) is an American comedian, actor, voice-over artist, and entertainer, known for his role in the sitcom Home Improvement. He is also known for his film roles in several popular movies, including The Santa Clause and Toy Story movies, and Galaxy Quest.
On October 2, 1978, Allen was arrested in the Kalamazoo/Battle Creek International Airport for possession of over 650 g (1.4 lb) of cocaine. He subsequently pleaded guilty, and provided the names of dealers in exchange for a reduction in his sentence from a possible life imprisonment to a possible three to seven years. He was paroled on June 12, 1981 after serving 28 months.
He appears in "Mind Over Murder" when Peter Griffin builds Ye Old Pube in his basement. Peter remarks that he is just like Allen, because he builds things and has a criminal record. In his appearance, Allen snorts up the screen in the same manner as snorting cocaine.
He is also mentioned in "The Courtship of Stewie's Father". When Stewie is taken by Disney security to sing at the It's a Tiny World ride, he refuses. He is told that if he doesn't, he will be forced to star in a Christmas movie with Allen.
Community content is available under
CC-BY-SA
unless otherwise noted.