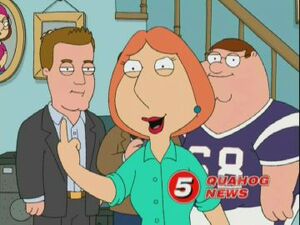 Thomas Edward Patrick "Tom" Brady, Jr. (born August 3, 1977) is an American football quarterback, formerly with the New England Patriots and later with the Tampa Bay Buccaneers.
He voices himself in "Patriot Games". Brady first meets the Griffins at a reunion, invited as a friend of one of Peter Griffin's classmates. After seeing Peter running to the bathroom to vomit, Brady asks him to join him and play for the New England Patriots. As he plays, the attention goes to Peter's head, and after an absurd display of show boating, the team trades him to an English Football team, the London Sillinannies.
Stewie voices his dissatisfaction with Super Bowl XXXIII in "Back to the Pilot" because Brady did not play in it. Not only were the Patriots not playing in that Super Bowl, but Brady was not even in the league at the time, having been drafted in April 2000, about 14 months after that game.
Lois' softball chatter in "Total Recall" includes mentioning that Tom Brady is the quarterback.
When Brian assures Stewie that no one pulls up players shirts to blows raspberries on their bellies at football games in "3 Acts of God", Tom goes down and C.J. Spiller does pull up his jersey.
To get through a bingo game with Joe, Peter drifts off to his "happy place" where he imagines a picture of Brady ironing in live action in "Road to India".
Tom is mentioned often when teammate Rob Gronkowski moves to the neighborhood in "Gronkowsbees".
In "Petey IV", Vladimir Putin takes Peter on a tour of Russia after impressing him with his fighting spirit. However, Putin reveals that NFL commissioner Roger Goodell helps the Russians control American football games. Facing a suspension of Brady, Peter challenges Putin to a boxing match.
Peter tells God that his dream is to be stuck in an elevator with Tom Brady in "Are You There God? It's Me, Peter" to which God agrees. When Peter wants to ask questions about Brady, God refuses to speak for him.
Having sex with Tom is on Jess' bucket list in "Married...With Cancer".
To celebrate getting Carter and Barbara Pewterschmidt back together in "Absolutely Babulous", Peter decides to get drunk and creep out the kids by offering to give Chris a 'Tom Brady' kiss.[1] As Chris tries to ignore this, Stewie clears his throat down the hall to draw attention.
When Peter is grounded by Lois for acting like a child in "Undergrounded", he gets a call from his friends that Tom Brady is outside the house throwing passes to the neighbors. When he tries to get permission from Lois to go outside, he finds that she's outside already and grants him permission to go with them to see an Anne Hathaway movie. This causes Peter to change his mind about going out.
In a futuristic Quahog in "Rich Old Stewie", nearly everything is named after Tom Brady, except for the Rob Gronkowski Library.
Community content is available under
CC-BY-SA
unless otherwise noted.