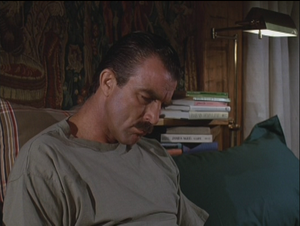 Thomas William "Tom" Selleck (born January 29, 1945) is an American actor, screenwriter and film producer, perhaps best known for his starring role as Hawaii-based private investigator Thomas Magnum on the television show Magnum, P.I.. He has appeared extensively in television series roles, including as Dr. Richard Burke in Friends and A.J. Cooper in Las Vegas. In addition to his series work, Selleck has appeared in more than fifty made-for-TV and general release movies, including Mr. Baseball, Quigley Down Under, and Lassiter.
He is voiced by Chris Cox.
In "Da Boom", Lois Griffin reminisces about the food they had wasted. A cutaway shows her husband Peter attempting to spoon feed Selleck, as Magnum on the television screen.
In Stuck Together, Torn Apart", Magnum calls Higgins "Tattoo", referencing Hervé Villechaize on Fantasy Island. When Higgins corrects him, Magnum starts hitting him until he submits to being called Tattoo.
Selleck appears as Phil Blackwood from Her Alibi in live action in Something, Something, Something, Dark Side. He does nothing as Luke Skywalker, played by Chris Griffin, calls for his help.
In "Three Kings", there a spoof of Magnum P.I. called Magnum B.M. where Higgins asks Magnum about his leaving a smudge on a crime scene wall and Magnum answers that he does have "poo" on his hand. His answer is followed by a Magnum P.I. style closing credits.
Tom and Roger E. Mosley appear in a live action clip from Magnum as Peter has to face the possibility of being unable to see his own black friend Cleveland Brown, in "He's Bla-ack!".
Vera tells Lois that the fresh air at Sunrise Woods Bible Camp is intended to clear away all thoughts of Tom Selleck in "Cat Fight".
Community content is available under
CC-BY-SA
unless otherwise noted.