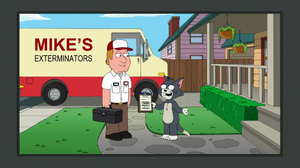 Tom and Jerry is a series of theatrical animated cartoon films created by William Hanna and Joseph Barbera for Metro-Goldwyn-Mayer, centering on a rivalry between a cat named Tom and a mouse named Jerry whose chases involved comic violence. The original series is notable for having won seven Academy Awards, tying with Walt Disney's Silly Symphonies as the theatrical animated series with the most Oscars.
"The Worry Song" in "Road to Rupert" superimposed Stewie over the figure of Jerry Mouse dancing with Gene Kelly from the film Anchors Aweigh.
Peter and Lois spend the day in bed together in "Valentine's Day in Quahog" watching television including the final episode of Tom and Jerry in which Tom hires an exterminator to finally get rid of Jerry, taking at least one of his oversized mallets as a souvenir.
External Links
Community content is available under
CC-BY-SA
unless otherwise noted.