Wiki Targeted (Entertainment)
Play Sound
Tomik Pjölck and Bellgarde, the "Foreign guys who have been living in the United States almost long enough to sound American" are recurring characters on Family Guy.
In "The Former Life of Brian", they were sitting in a coffee shop discussing what they did at a discothèque party.
They appear in the uncensored version of "Jerome Is the New Black", where they audition to be the new friends in the group.
In "Business Guy", they recover from a hangover.
In "Extra Large Medium", they try to figure out a way to celebrate Gerbitz Day, a holiday in their native country.
They are two of the many witnesses of a make out session between Meg Griffin and her boyfriend Anthony in "Go, Stewie, Go!".
The extended DVD cut of "And Then There Were Fewer" finds Peter discovering that they also should have been at the party hosted by James Woods. A cutaway shows them disappointed after the invitation was stuck inside their post pail.
In "Road to the North Pole", they partake in the musical number "All I Really Want For Christmas", revealing they don't know what Christmas is. However, they have a similar holiday in their home country called "Kishkev Fufleer".
They are alcoholics, attending Alcoholics Anonymous meetings Peter attends in "Friends of Peter G". They did not share any stories, but did participate in the performance of "Mr. Booze".
They can be seen as Stewie rides through town under Brian's car in "Family Guy Viewer Mail No. 2".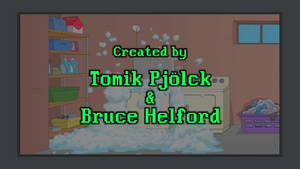 Joe Swanson complains about Tomik and Bellgarde talking too loud at an adjoining booth at The Drunken Clam in "The Most Interesting Man in the World". After apologizing, Tomik jokes about having to have sex with each other since they can't find any women. Bellgarde is grossed out at first and then realizes he's been fooled and comments that Tomik should get a job as a comedy writer. Tomik confirms that he already has just such a gig at CBS on the show Wizard Robot and His Less Successful Friend, working with Bruce Helford.
Alec Sulkin and John Viener provide the voices, although they are known to switch between the two characters at times.[1]
Appearances
Community content is available under
CC-BY-SA
unless otherwise noted.