Wiki Targeted (Entertainment)
Play Sound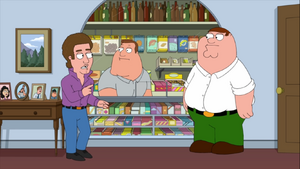 Tommy Tutone is a pop band, primarily known for its 1981 song "867-5309/Jenny", which peaked at #4 on the Billboard Hot 100.
Immediately after Peter and Chris set out on the road to a sports memorabilia show, Chris has to use the restroom in "And Then There's Fraud". Peter decides to pull in to Joe's house where he finds he has a little bodega set up and won't give out the restroom passcode without a purchase. After having been forced to buy a pack of gum, Peter is unable to remember the unusually long passcode and is forced to buy another pack of gum to hear it again. After the second attempt, Joe brings in Tommy Tutone to help him try to memorize it using the tune of "867-5309/Jenny".
Tommy Tutone is voiced by Patrick Stump.