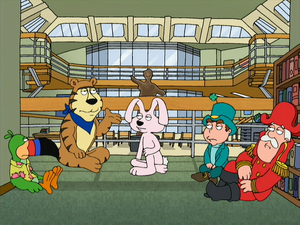 Tony the Tiger is the advertising cartoon mascot for Kellogg's Frosted Flakes breakfast cereal, appearing on its packaging and advertising. He is also notable for his catchphrase "They're grrrrrreat" at the end of every commercial.
He is seen as part of The Breakfast Club among other cereal mascots, being Cap'n Crunch, Trix Rabbit, Toucan Sam and Lucky the Leprechaun in "Let's Go to the Hop".
He gains an imitator in Terry the Tiger in "The Tan Aquatic with Steve Zissou".
When Cleveland Brown dresses as Count Chocula to trick Peter into washing his hand in "Dog Bites Bear", he uses part of Tony's catch phrase "they're grrrrrreat!"
Tony is present as a gathering of mascots hosted by Peter in "Pawtucket Pete" when he becomes the new mascot for Pawtucket Patriot Ale. As they gather for a group photo, Peter expresses his condolences for Tony's wife having been shot by Donald Trump's children.
Community content is available under
CC-BY-SA
unless otherwise noted.