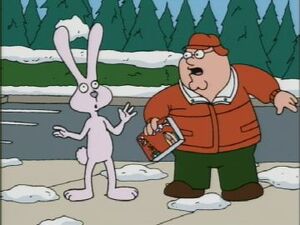 The Trix Rabbit is the advertising cartoon mascot for Trix breakfast cereal, appearing on its packaging and advertising.
When Peter is told about the world ending in "Da Boom", he takes a box of cereal from the Rabbit, shouting at him for trying to take it.
In "Let's Go to the Hop", he appears in The Breakfast Club with Toucan Sam, Tony the Tiger, Cap'n Crunch, and Lucky the Leprechaun.
While the Griffins are in Asiantown in "Breaking Out is Hard to Do", an aggressive, Asian version of the Trix Rabbit appears in a Trix commercial during a broadcast of Sumo Tonight.
When Cleveland Brown dresses as Count Chocula to trick Peter into washing his hand in "Dog Bites Bear", he uses part of the rabbit's catch phrase "silly rabbit."
Community content is available under
CC-BY-SA
unless otherwise noted.