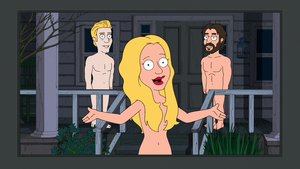 True Blood is an American television series created and produced by Alan Ball. It is based on The Southern Vampire Mysteries series of novels by Charlaine Harris, detailing the co-existence of vampires and humans in Bon Temps, a fictional, small town in the state of Louisiana. The series centers on the adventures of Sookie Stackhouse, played by actress Anna Paquin, a telepathic waitress.
In the DVD cut of "Halloween on Spooner Street", Stewie shows off his duck costume to Lois including the addition of a set of vampire bite marks noting that he was bitten by Anna Paquin of True Blood. When Brian points out that no one knows who that is, Stewie responds that rich, gay people do.
in "Lottery Fever", Paquin appears as her character Sookie Stackhouse in True Blood when Peter Griffin makes Joe Swanson locate boob scenes in the show. However, Peter objects to Paquin's appearance, claiming it doesn't count, causing an on-screen protest from Paquin during an episode of True Blood.
In "The Blind Side", Lois sees True Blood start to come on and tells Peter "that gay show" he likes is on.
Community content is available under
CC-BY-SA
unless otherwise noted.