This is Shawn Ries' first solo writing effort.
Meg appears but does not have any lines in this episode.
Peter reports in that "Jimmy Crack Corn" is their wedding song.
"Brass Monkey" by the Beastie Boys plays during the guys' drinking binge.
When the 80s FBI arrive during Chris' hacking attempt, "The Heat Is On", originally by Glenn Frey, plays.
The video clip of the samba dancers takes place at Rio de Janeiro's Sambadrome during Carnival.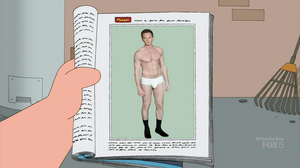 Peter claims that Chris has Crohn's Disease.
When Peter and his friends are drinking, they look at a picture of Rebel Wilson. After they take another drink, the celebrity becomes Kate Winslet; after another she becomes Jennifer Lawrence, and after a fourth drink, the famous person becomes Neil Patrick Harris.
Bruce is officially stated to be gay for the first time.
When Peter is in the library, he is attacked by White Fang, a novel written by Jack London and attempts to drown it after it ruined his 8th grade summer. The book attacks Peter until Joe shoots it and reveals that it ruined his summer as well.
Mayor Adam West gives Peter's age as 42. Peter had previously been listed as age 43 in "The Tan Aquatic with Steve Zissou" and had an unspecified birthday in "Baby, You Knock Me Out".
Quagmire's given age remains at 61 from "FOX-y Lady" so buying beer under the ban should not have presented a problem.
Jerome's given age was revealed to be 42 in "Baby Got Black", yet he was still allowed to serve alcohol to Brian.
Community content is available under
CC-BY-SA
unless otherwise noted.