Joe Cocker's "When the Night Comes" plays as Peter runs to Lois after being pulled from the tunnel.
Cleveland has a secret mailbox kept from Donna at Mail Boxes Etc..

Joe also receives checks at Mail Boxes Etc and claims to have been on Seinfeld. Patrick Warburton played the role of "David Puddy" on the show.

This is the second consecutive episode to take a shot at Anne Hathaway, with Lois attacking Peter for comparing her to Anne in "Short Cuts", and Peter rejecting a chance to go see a film of hers with Lois and Tom Brady here.
As part of his escape plan, Peter hangs himself similarly to Brooks's death in The Shawshank Redemption. He did the same thing earlier in "Tiegs for Two".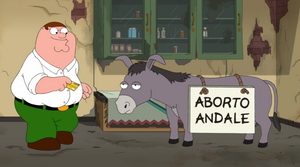 The sign on the donkey at the Mexican doctor reads "Aborto Andale". This is supposed to mean "fast abortions", but ándale actually means "all right" or "come on!"[1]
Cleveland reports that his 'uncle Reggie' was laid to rest, but when Peter digs his way up through the floor of the Drunken Clam, he apologizes for stuffing him in a garbage bag and dumping him in a pond.
Cleveland is a fan of Kid 'n Play; Joe likes Coldplay.
Meg mentions that Bad Moms and A Bad Moms Christmas, both starring her voice actor Mila Kunis, are available on streaming services.
Community content is available under
CC-BY-SA
unless otherwise noted.