Up Late With Stewie and Brian
Stewie and Brian host their own talkshow

First Aired: February 25, 2007

Guest Starring: Rob Corddry
Featuring: Stewie, Brian
Also Appearing: Cleveland Brown, Glenn Quagmire, Herbert, Jesus Christ, Joe Swanson, Lois (voice), Mayor Adam West, Seamus

Plot
: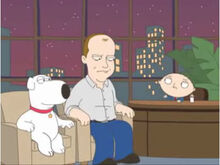 Live from Quahog Community Center Up Late With Stewie and Brian is a late night talk show. Stewie plays the part of a Johnny Carson-type late night host and Brian is his Ed McMahon-esque comedic sidekick. During his monologue, Stewie talks about Cleveland's purple suit, Steve Harvey, traffic, Leah Remini, Hillary Clinton and Bill Clinton. The in-house band is Cleveland Brown (who Stewie calls "Doc") and The Tokens, the tokens being Quagmire, Herbert, Mayor Adam West, Joe Swanson, Jesus and Seamus. After the monologue Stewie has a segment called "Stewie Calls His Mother" were he calls Lois and says I'm gonna fuckin' kill you and then hangs up on her. After a break they do another segment called Funny Obits in which Stewie reads "funny" obituaries from the newspaper. After that they introduce Rob Corddry star of "The Winner" Stewie asks Rob a couple of questions and pisses him off. He curses them both and leaves the show. They then show a clip from "The Winner" and go off the air.

Previous Episode /// Up Late With Stewie and Brian \\\ Next Episode
Community content is available under
CC-BY-SA
unless otherwise noted.