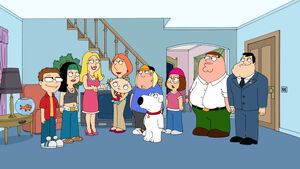 Hi, I'm Boyariffic. A huge fan of Family Guy and someone who dreams of two things happening in the show before it's done. 1. A crossover with American Dad (a full length crossover, not like the one at the beginning of Bigfat, although that was totally awesome) no, I mean like a full hour crossover like that one they did with with The Simpsons. And 2. For Brian to die again and for Vinny to come back for longer. Oh, and I can also do a perfect voice impression of Cleveland. I swear it sounds just like him. It's so awesome.
My Top 10 Favorite Characters
Community content is available under
CC-BY-SA
unless otherwise noted.