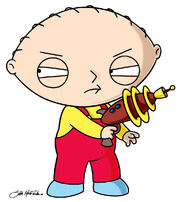 Hello, I'm NovaScotianGuy! As you can tell from my name, I'm from Nova Scotia and I'm a huge fan of Family Guy. My favourite season of Family Guy is season 7 and my favourite character is Stewie. In real life I am very active, I do lots of running and paddling 6-7 days a week as well as weight training 1-2 times a week. Being Canadian, I am a big fan of hockey and during the winter I love skating on lakes and downhill skiing. Typical Canadian characteristics I don't have are going to Tim Hortons everday (I go like twice a month), prouncing Z as 'zed', drinking beer, and I don't always ice-fish for food, I only do that during the winter. My favourite hockey team is the Montreal Canadiens (24 Stanley Cups!). I am also a fan of the Simpsons, Futurama, Under the Dome, Robot Chicken, Get Out Alive, Star Wars and Indiana Jones.
My favourite Star Wars and Indiana Jones movies
Star Wars:
1. Episode III Revenge of the Sith
2. Episode IV A New Hope
3. Episode VI Return of the Jedi
4. Episode V The Empire Strikes Back
5. Episode I The Phantom Menace
6. Episode II Attack of the Clones
Indiana Jones:
1. The Last Crusade
2. Raiders of the Lost Ark
3. The Kingdom of the Crystal Skull
4. The Temple of Doom
Community content is available under
CC-BY-SA
unless otherwise noted.