Wiki Targeted (Entertainment)
Play Sound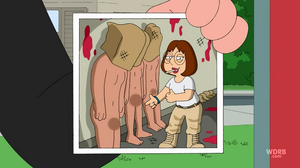 The opening to the episode is a parody on the trailer to the 2010 romantic-comedy film Valentine's Day.
The pose in Meg's picture is a reference to the Abu Ghraib torture and prisoner abuse photos.
Glenn's becoming Glenda bears some similarities to the film Glen or Glenda about about cross-dressing and transsexuality.
When Brian is pointing out the problems of his ex-girlfriends, he says one can't get wet and it's revealed to be Gizmo from the film Gremlins, who's species multiply when wet.
The DVD commentary reports that the scene of Brian attempting to outrun his former girlfriends is a parody of the 1999 film The Bachelor.
The commentary also reports that the scene of Brian in bed at the end was inspired by an illustration in the childrens book Go, Dog. Go!.