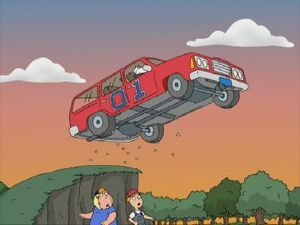 Waylon Arnold Jennings (June 15, 1937 – February 13, 2002) was an American country music singer, writer and musician. A self-taught guitar player, he rose to prominence as a bass player for Buddy Holly following the break-up of The Crickets. Jennings escaped death in the February 3, 1959, plane crash that took the lives of Buddy Holly, Ritchie Valens, and J. P. "The Big Bopper" Richardson when he gave up his seat to Richardson who had been sick with the flu.
In 1979, he recorded the theme song for the hit television show Dukes of Hazzard, and also served as the narrator, "The Balladeer", for all seven seasons of the show.
In "Chitty Chitty Death Bang", he narrated a watch fight between Peter Griffin and a Cheesie Charlie's Skill Crane player, who found Griffin's watch at the crane's prize pickup chamber.
In "To Love and Die in Dixie", what turned out to be his last televised appearance, he reprised his role as The Balladeer once again after Peter painted his car to look like The General Lee, Bo and Luke Duke's 1969 Dodge Charger.
As Peter is dying in the future of "Rich Old Stewie", he sees others who have already passed on from the show, including Waylon Jennings.
Community content is available under
CC-BY-SA
unless otherwise noted.