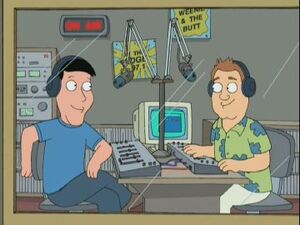 Weenie and the Butt is the name of the radio show on WQHG-FM. They hired Brian Griffin to follow their show with The Lunch Hour in "Mother Tucker". They discovered him doing a live show at the Quahog Air Show while he looked for Stewie and used a microphone to do so.
The show is typical of morning radio shows that rely on funny sound effects, catch phrases and toilet humor.
They are heard in "Stewie Goes for a Drive" giving away tickets to a Justin Bieber concert.
They are seen in "Roads to Vegas" once again giving away tickets, this time to a Celine Dion concert in Vegas.
Weenie and the Butt is parodied as Russian Morning Zoo show The Penis and the Buttocks in "Petey IV".
Weenie and the Butt are still on the air as well as other media in a futuristic Quahog in "Rich Old Stewie".
In "Start Me Up", the pair are forced to go by their given names of Devon and Lawrence after several allegations of sexual misconduct. They avoid being fired outright due to there being six months left in their contracts.
Joe Lomonaco voices Weenie while John Viener voices the Butt.
Community content is available under
CC-BY-SA
unless otherwise noted.