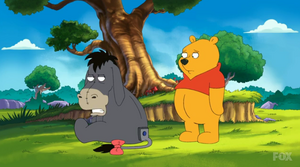 Winnie-the-Pooh is a fictional bear created by A. A. Milne. The first collection of stories about the character was the book, Winnie-the-Pooh (1926). He was later a cartoon by Disney.
In "Screwed the Pooch", Peter climbs into a kangaroo's pouch and pretends to be Roo, one of Winnie-the-Pooh's friends.
Stewie alludes to Winnie-the-Pooh in "Holy Crap", and Chris, who is desperately holding in the contents of his bowel owing to a misunderstanding, complains about his brother's use of the word "poo".
He appears in "Road to the North Pole" with Eeyore, trying to cheer him up. Pooh then asks him why he's always such in a bad mood. Eeyore says it was because he has a nail in his anus. Here, Winnie is voiced by Will Ryan while Eeyore is voiced by John Viener.
In "Joe's Revenge", while waiting for Bobby Briggs in Mexico, Peter tries to sell ceramic Winnie-the-Pooh dolls to people at the border.
Peter creates a similarity between Vinny and Winnie-the-Pooh's names in "Life of Brian".
Peter compares himself to Winnie-the-Pooh after gaining a lot of weight and getting stuck in his food truck in "Saturated Fat Guy". As Winnie is shown stuck in Rabbit's hole, he suggests to Rabbit that he shouldn't push from behind with his fist, although he is told not to worry about it.
As an elderly Stewie clears a dying Peter's search history in "Rich Old Stewie", he finds a lot of Winnie-the-Pooh merchandise.
Community content is available under
CC-BY-SA
unless otherwise noted.