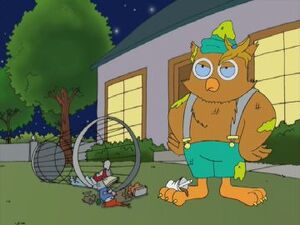 Woodsy Owl is an owl icon for the United States Forest Service most famous for the motto "Give a hoot — don't pollute!" Woodsy's current motto is "Lend a hand — Care for the Land!" Woodsy's target audience are children 5 to 8 years old and he was designed to be seen as a mentor to children, providing them with information and advice to help them appreciate nature. In 2006, a "new" Woodsy Owl mascot was introduced.
He is seen in "E. Peterbus Unum" as Peter Griffin intentionally litters.
He was also Peter's inspiration for Gary the No-Trash Cougar in "Blind Ambition".
Community content is available under
CC-BY-SA
unless otherwise noted.