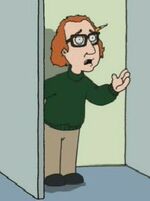 Woody Allen (born Allan Stewart Konigsberg on December 1, 1935) is an American filmmaker, screenwriter, actor, comedian, jazz musician, author and playwright.
Allen's distinctive films, which run the gamut from dramas to screwball sex comedies, have made him a notable American director. He is also distinguished by his rapid rate of production and his very large body of work. Allen writes and directs his movies and has also acted in the majority of them. For inspiration, Allen draws heavily on literature, sexuality, philosophy, psychology, Jewish identity, and the history of cinema, among a wealth of other fields of interest.
He makes an appearance in "When You Wish Upon a Weinstein". Peter Griffin brings up the stereotype that Jewish people have been used for their knowledge for too long, and Louis Farrakhan is seen giving a speech for African-American cultural pride, and he forgets one of his lines. Then, he looks over and sees Allen contemplating why he signed up for the assignment.
Lois has to set Peter straight over the facts of Woody's relationship with adopted daughter Soon-Yi Previn in "Barely Legal".
A scene from his film Annie Hall is parodied in "I Dream of Jesus" when Jesus tells George W. Bush that he knows nothing of His work.
In the DVD version of "FOX-y Lady", Patrick Stewart stars in the Woody Allen-directed film Bananas Over Broadway in a role written for Allen himself.
Stewie offers to take a depressed Brian out with other playwrights to have drinks with Woody Allen and his "daughter-wife" in "Brian's Play".
The DVD commentary for "Cool Hand Peter" reports that Cleveland and the other black prisoners singing "Gonna See Miss Eliza" is a reference to the Woody Allen film Take The Money And Run.
The ending to "Fresh Heir" references Woody Allen's film Annie Hall. Woody's marriage to adopted daughter Soon-Yi Previn is also referenced.
Woody is mentioned when his son Ronan Farrow is referenced in "Bookie of the Year" when Brian and Stewie see a "young Frank Sinatra" at the Feast of San Gennaro.
In "Petey IV", Peter sets up a cutaway gag that insinuates that Ronan is actually Frank Sinatra's son instead of Woody Allen's.
The guys watch Marvel's The Offenders, a parody of The Avengers featuring sexual predators in "HTTPete". Woody Allen asks if Matt Damon will be coming but is told by Bill Cosby that he won't, but is aware of what is happening, referring to a speech made defending some sexual predators and men in general in Hollywood.[1]
Community content is available under
CC-BY-SA
unless otherwise noted.