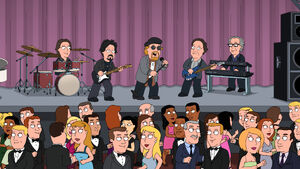 Seamus replaces Mayor Adam West in the opening sequence.
"Summer Breeze" by Seals and Crofts plays when Peter first plays his 'Yacht Rock' music for the guys.
"Sailing" by Christopher Cross plays when the guys start to fight, putting an end to the hostilities.
An archive recording of Toto singing "Rosanna" is played while the band performs onboard.
"Sentimental Lady" by Bob Welch plays numerous times whenever Welch is mentioned.
Joe admits he's not enamored of the song "Footloose". When Kenny Loggins offers up "I'm Alright" from Caddyshack, Joe insists that it is the gopher that sings that song.
Meg's bowel movements are white, which Chad attributes to her diet of powdered donuts.
Michael McDonald only joins the group long enough to save them by using his voice to summon whales, then vanishes immediately after.
Meg's would-be boyfriend Chad vanishes when the family is returned home.
Community content is available under
CC-BY-SA
unless otherwise noted.