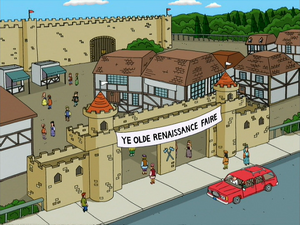 The Ye Olde Renaissance Faire is an event held annually in Quahog, Rhode Island.
Peter Griffin accidentally found himself there when he was 18 after taking LSD, where, thinking he could fly, jumped off a Renaissance themed building where he was saved by The Black Knight. Following this event, it became Peter's dream to become a jouster.
Years later, after being fired from work, Peter eventually joins the fair in the episode "Mr. Saturday Knight" as a jouster, thus fulfilling his dream. However, the dreams were cut short during a misunderstanding involving the Knight's girlfriend, Maid Madeline. Mort Goldman worked here that same year. Tricia Takanawa did a report on the Faire in the days leading up to it, and Tom Tucker and Diane Simmons did play-by-play analysis of the jousting tournament.
Community content is available under
CC-BY-SA
unless otherwise noted.